The Poetry Porch: Poets
---
About Diana Der-Hovanessian

Diana Der-Hovanessian at Longfellow House
Cambridge, Massachusetts, 2007
photo by JW

Diana Der-Hovanessian, New England born poet, was twice a Fulbright professor of American Poetry and is the author of more than 23 books of poetry and translations. She has awards from the National Endowment for the Arts, Poetry Society of America, the Armenian Ministry of Culture, and others. Her poems have appeared in Agni, American Poetry Review, The Nation, etc., and in many anthologies. During the 1980s, two of her plays, (The Secret of Survival and Growing Up Armenian), traveled to many college campuses telling the Armenian story with poetry and music. After 1989, The Secret of Survival with Michael Kermoyan and later with Vahan Khanzadian was performed for earthquake relief benefits. She works as a visiting poet and guest lecturer on American poetry, Armenian poetry in translation, and the literature of human rights at various universities here and abroad. She serves as president of the New England Poetry Club.

To visit the Diana Der-Hovanessian Home Page.
To read Diana's poetry on the Poetry Porch.
---

Return to the Poetry Porch contents page.

Send comments to Poetry Porch Mail.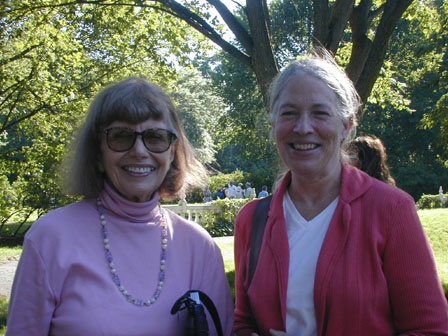 Diana and Joyce at Longfellow House, 2007